Morena Mom's Christmas Shopping at SM City San Pablo
Does your Christmas tree have gifts yet? Christmas is the season of giving they say so ready those gifts for your inaanak, loved ones and friends! Where will I do my Christmas shopping? Of course, there, where I can buy them under one roof!
And so I went for a quick visit to SM City San Pablo as that's the SM mall nearest to our town, Nagcarlan here in Laguna.
I'm not updated on what the mall hours were when the new normal happened but I was ecstatic to know that SM mall hours are from 10AM to 9PM. Because my husband's work is until 4PM and we do not have anyone else to babysit our children except for him or me. That's why even if I wait for him when he clocks out to be able to attend to our kids, I still have ample time to do my quick run for gift shopping. Because you know how it is when husbands do the shopping – either incorrect items or something was unchecked on your list. Have you ever experienced that or was it just I, Momshies? I mean, my husband is close to perfect but buying stuff and picking what is what whenever an item isn't available is not his strong area. To save my nerves and cut the hassle, I assigned myself to carry out this mission. Laughs.
And because safety is everyone's top priority especially in this new normal, SM City San Pablo implements safety precautions more than ever. Temperature check. Contact tracing information via QR code or you can also input it manually on the log sheet and the alcohol station.
I was welcomed with a toy fair in the atrium, perfect for inaanak – my ninang heart jumped with joy!
But it rejoiced more when I got a closer look at the price tags! Yes, bugetarian-friendly yet it won't leave a frown on your receiver's faces! Toys Christmas Mall Sale has prices from P100, P200, P500. And of course, 50% price cut got me smiling from ear to ear! But wait there's more, there is another 10% on top of that discount – these discounts are for the red-tagged items!
If toys aren't your choice as gift items, at So Many Sale store, you have an array of options. They have sale sale sale on kids accessories, apparel, shoes. They even have items for newborn babies! Very convenient if you have friends who are having their new bundle of joy soon, you can shop for them too at this shop. Sale is from December 1 until 15th.
And when you buy things, a trip to the mall is not complete without at least checking out items for your children. I went to survey the aisles of Baby Company for mom and baby essentials to take advantage also of my Mom Card.
What did I find? I spotted new items on their shelves, UV sterilizers with lots of options for you to choose from; UV Pocket Sterilizer, UV Light Sterilizer Wand, UV Table Lamp Sterilizer! We are all aware that there are viruses, harmful germs, allergens, molds and bacteria lurking around and who doesn't want to eliminate them, right?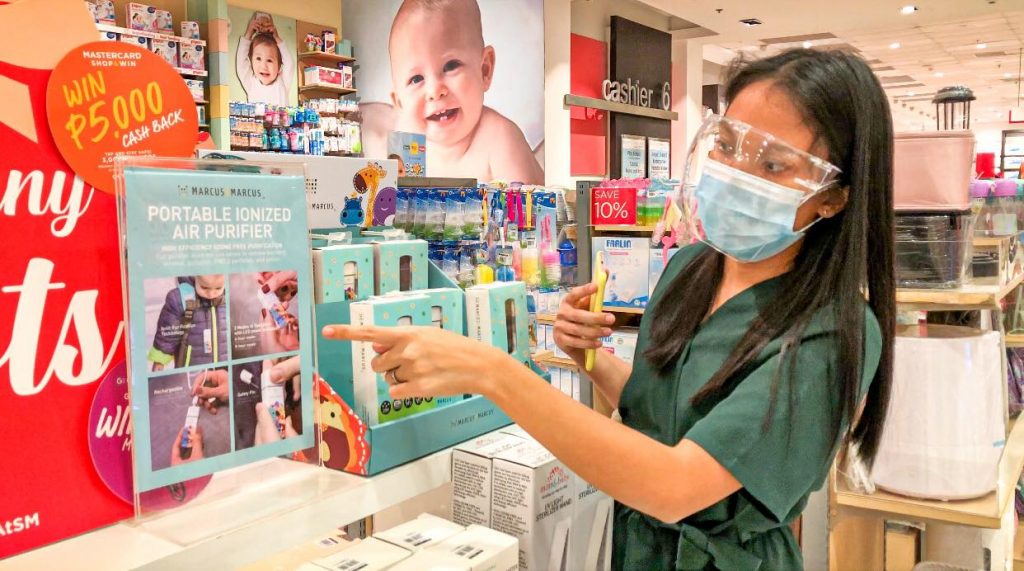 Do you need additional gift ideas for your inaanak or even your own kids? UV Glasses! This pandemic forced people to stay at home more than ever and that means more time also for gadgets for children, isn't it? Protect your kids' eyes during screen time or even when just basking in the sun.
Also, before I forgot, always ask what's the offer they have for Mom Card holders. Get the Hologram Umbrella for only P199 when you spend a minimum single-receipt purchase of P1000 at any Baby Company store!
Hurry and avail of this starting Dec 6 until Dec 31, 2020 only! Your kids will definitely love this because I know my Ate Ella will.
The most interesting thing I found out during this visit is the CALL TO DELIVER. Have you heard of this? I learned that SM has a hotline which can cater to their customers' easy shopping without going out of their homes.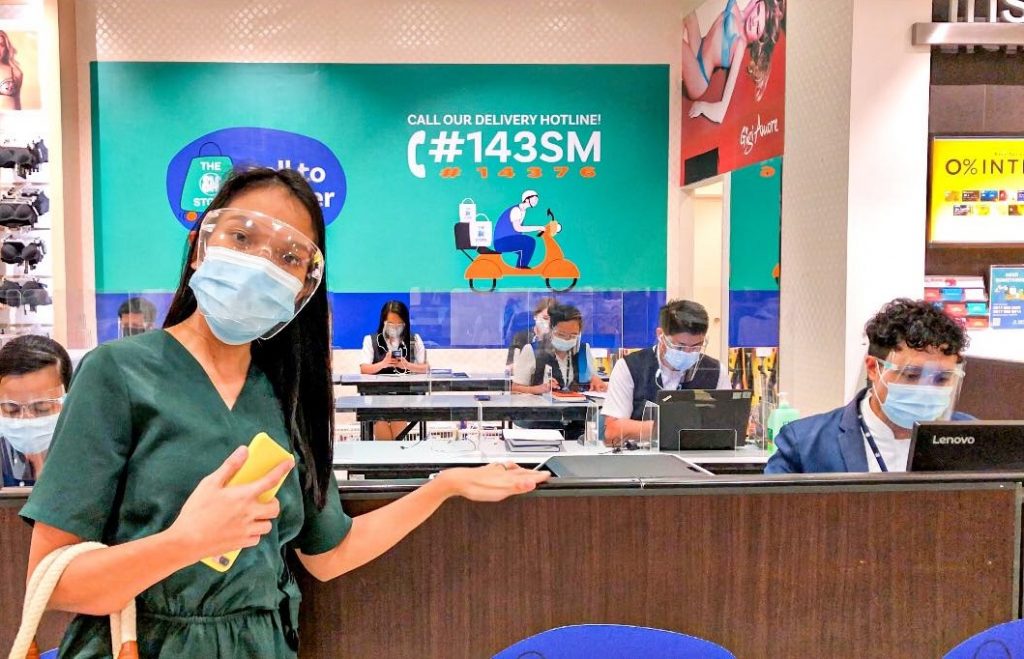 It's open daily from 10:00 AM to 7:00 PM. You can find the complete details here (bit.ly/143SM).
I'm always intrigued by what SM Gift Registry can offer so I decided to drop by and ask. One of the challenges for me when choosing gifts whenever our family is invited to an occasion is what gift should I give the celebrant. Imagine how convenient it is to just approach SM's Gift Registry and check what are the preferred gifts and choose from there. I discovered that when you register, you are entitled to a 10% discount on regular priced items and for your guests who will purchase, they will have double points on their SM Advantage cards! Remember that those points are good as cash.
After the gift shopping, would you agree that eating is necessary? There are a lot of food shops to choose from at SM City San Pablo of course.
With all that happened this 2020, we still got tons of things to be grateful for and personally I think gratefulness is evident when shared – it's not the price tag, it's definitely the thought that counts. Do your Christmas shopping at SM Super Malls because despite everything, tuloy na tuloy pa din ang Pasko!