AeroBlu Footwear Review + Giveaway
AeroBlu Footwear Review + Giveaway
When I became a mommy, I always wanted for COMFORT, STYLE and PRICE to be found in a product and that's how it will end up in my cart.
AeroBlu Footwears. I first saw my Mom wearing a stylish pair of this brand. The next couple of months when we came to visit them again, I noticed that she's still using the pair! My mother is a typical housewife who has daily errands which includes: going to a slippery market (this is every day basis as she takes advantage of how near the Wet Market is to their place, about 400 meters), pays the bills, grocery shopping and more. And then a year later, my little sister bought her another pair. By then I cannot help but ask how much it have cost her for a pair—she's thrifty and lives within a budget of a student allowance — I was surprise that this brand which my mom raves about is just less than P200 for those particular styles, VERY AFFORDABLE! I'm sold.
A photo of her almost 2 years old AeroBlu pairs.
If that right there is not DURABLE, I don't know what is.
Speaking of durability, I passed by an AeroBlu Footwears section and I asked why the pairs were so dependable like that. I was told that it was made from Polyurethane. I don't know what that is until she explained that it is a versatile material that appears in a large amount of everyday household items and machinery such as thermal insulation, furniture, bedding and seating, gaskets to paint rollers to gel pads, watch straps and more!
I was like WOW. That's why when I needed a comfortable yet beautiful pair of sandals when I was pregnant, I did not hesitate to have it from this brand. You see, I was carrying an extra weight courtesy of the growing little human inside my belly, you bet, the last thing I would want is an uncomfortable pair of footwear. Imagine those prenatal checkups that were initially from a monthly basis turned a weekly basis as I approached my 37th week.
My all smiles preggo self while on AeroBlu footwear.
Well, indeed, it's super light, tough, non-slip when it rains & kept my feet cool even under the sun. Perfect for rainy & sunny weather of PH! Up to this writing, I am still enjoying my AeroBlu step ins while carrying our newborn to her vaccine sessions and checkups.
Before I forgot, I was never attracted to sandals with slight heels. But another thing the sales staff told me, the 1 1/4 heel is there to ensure back support for Mommies and Pregnant Women. Greatest effort from this brand, I must say. Don't you agree? Like, I don't know about you, but I love that these entire product feature is at a FRIENDLY PRICE!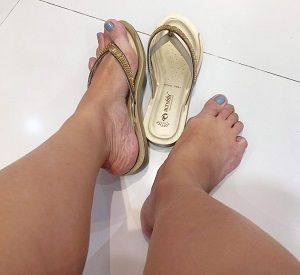 Available in SM Supermarket, Hypermarket, Savemore, Robinsons, Waltermart, Baguio Country Mart also on LAZADA and SHOPEE.
Now it's time for a giveaway! There will be 10 winners of AeroBlu slippers on November 25!
MECHANICS
Join now!